The Blindspot: Season 1 DVD was released on August 2, 2016.
"
...A riddle, wrapped in a mystery, inside an enigma and everyone is looking for the key.
"

— Zach Seemayer, ENTERTAINMENT TONIGHT ONLINE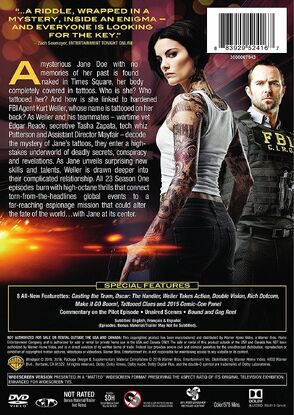 A mysterious Jane Doe with no memories of her past is found naked in Times Square, her body completely covered in tattoos. Who is she? Who tattooed her? And how is she linked to hardened FBI Agent Kurt Weller, whose name is tattooed on her back? As Weller and his teammates -wartime vet Edgar Reade, secretive Tasha Zapata, tech whiz Patterson and Assistant Director Mayfair- decode the mystery of Jane's tattoos, they enter a high-stakes underworld of deadly secrets, conspiracy and revelations. As Jane unveils surprising new skills and talents, Weller is drawn deeper into their complicated relationship. All 23 Season One episodes burn with high-octane thrills that connect torn-from-the-headlines global events to a far-reaching espionage mission that could alter the fate of the world... with Jane at its center.
Set Details
The boxset contains all 23 episodes of the season. The DVD box contains 5 discs. Other set details are:

English (Dolby Digital 5.1)
Commentary on the Pilot episode
Unaired Scenes
Bound and Gag Reel

Special Details
Special Features

Casting the Team
Oscar: The Handler
Weller Takes Action
Double Vision
Rich Dotcom
Make it Go Boom!
Tattooed Clues
2015 Comic-Con Panel

The Complete First Season
Ad blocker interference detected!
Wikia is a free-to-use site that makes money from advertising. We have a modified experience for viewers using ad blockers

Wikia is not accessible if you've made further modifications. Remove the custom ad blocker rule(s) and the page will load as expected.