The Blindspot: Season 2 DVD is set to be released on August 8, 2017.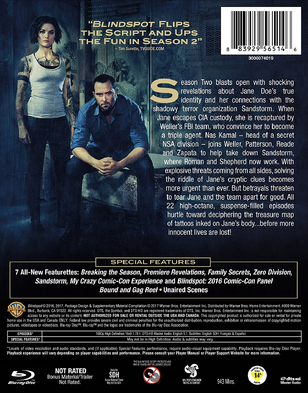 "
Blindspot flips the script and ups the fun in season 2
"

— Tim Surette, TVGUIDE.COM
Season Two blasts open with shocking revelations about Jane Doe's true identity and her connections with the shadowy terror organization Sandstorm. When Jane escapes CIA custody, she is recaptured by Weller's FBI team, who convince her to become a triple agent. Nas Kamal -head of a secret NSA division- joins Weller, Patterson, Reade and Zapata to help take down Sandstorm, where Roman and Shepherd now work. With explosive threats coming from all sides, solving the riddle of Jane's cryptic clues becomes more urgent than ever. But betrayals threaten to tear Jane and the team apart for good. All 22 high-octane, suspense-filled episodes hurtle toward deciphering the treasure map of tattoos inked on Jane's body... before more innocent lives are lost!
Set Details
The boxset contains all 22 episodes of the season. The DVD box contains 5 discs. Other set details are:

English (Dolby Digital 5.1)
Unaired Scenes
Bound and Gag Reel

Special Details
Special Features

Premiere Revelations
Family Secrets
Zero Division
Sandstorm
My Crazy Comic-Con Experience
Blindspot:2016 Comic-Con Panel Bound

The Complete Second Season
Ad blocker interference detected!
Wikia is a free-to-use site that makes money from advertising. We have a modified experience for viewers using ad blockers

Wikia is not accessible if you've made further modifications. Remove the custom ad blocker rule(s) and the page will load as expected.