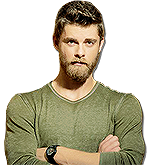 This article contains Spoilers from the upcoming Third Season of Blindspot. You can enter at your own risk!
Italy
Venice
The first location chosen to shoot the first scene of Season 3 was Venice, Italy. The following are the pictures found on different accounts that show locations and characters.
Piazza San Marco, Venice
On June 22, 2017 the cast and crew were seen filming at the Saint Mark's Square, Venice, where they were surrounded by a crowd and surprised by several fans who stopped to take a picture with Jaimie Alexander, Sullivan Stapleton and Luke Mitchell.
Spain
Barcelona
Luke Mitchell and part of the crew traveled to Barcelona, Spain for the shooting of episode 306.
Ad blocker interference detected!
Wikia is a free-to-use site that makes money from advertising. We have a modified experience for viewers using ad blockers

Wikia is not accessible if you've made further modifications. Remove the custom ad blocker rule(s) and the page will load as expected.