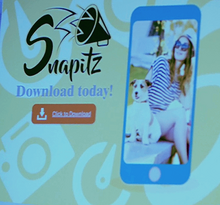 Snapitz is a fictional mobile application that it's mentioned in Condone Untidiest Thefts when Patterson discovered that the pictures that were taken and uploaded to the app were used by several suspects as a methof of communication to send coded messages that only the members of the Irish mob could understand.
Trivia
It is based on the mobile application Snapchat.
Ad blocker interference detected!
Wikia is a free-to-use site that makes money from advertising. We have a modified experience for viewers using ad blockers

Wikia is not accessible if you've made further modifications. Remove the custom ad blocker rule(s) and the page will load as expected.